Refurbished Coffee Machines
Refurbished Coffee Vending Machines - Refurbished Coffee Machines
Refurbished Coffee Vending Machines - Crane National 673 or 677 - Card Capable, MDB, DEX, Electronic Product Door open/close, Two cup sizes The machine is dual cup (8 & 12oz. cups). Two front graphic options. It vends three international coffee flavors (e.g. French vanilla, cappuccino), one hot chocolate flavor, cream, sugar, sweet & low, and cafe mocha (chocolate & coffee). The machine has a whipper motor for each flavored coffee and hot chocolate product.
More details...
The ePort

G10-S Kit by Cantaloupe is the industry € s first PCI compliant card reader and telemetry system with Verizon 4G/LTE Wireless services supporting indoor and outdoor applications. By accepting EMV contactless,

magstripe

, NFC card payments, as well as mobile wallets, the ePort

G10-S Kit enables unattended retailers to better serve consumers all while capturing key transaction data required to monitor and drive machine performance.
More details...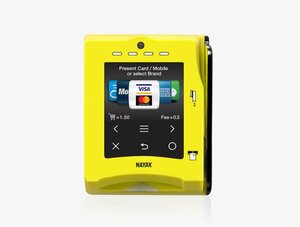 Nayax One Touch is a cashless solution incorporating the latest in card & mobile payment systems and valuable web-based reporting and management tools to help make your vending service more profitable.
More details...