Refurbished Soda Machines
Why a Refurbished Drink Machine is a Great Investment
Choosing to purchase a used drink machine is one of the easiest and most profitable ways to make money in the vending industry. Because the wholesale price of drinks is low and people everywhere get thirsty especially once they see a drink machine, it is a great low-cost way to bring in steady revenue.
At MEGAvending.com, we offer all types of used pop machines, so you're not confined to any single type. On the contrary, we offer a wide stock of used drink vending machines that look different from one another and hold different amounts of soda bottles or cans. Our refurbished drink vending machines are available at a number of different prices, and we are happy to help you decide which machine can give you the most money for your investment.
Refurbished Royal Vision Vendor RVV-500 Glassfront Drink Vending Machine that is MDB / DEX ready, accepts $1/$5 bills, and vends cans and bottles. Equipped with a robotic vending arm for efficient product delivery. Black Generic Graphics. Royal Vendors is a highly reputable vending manufacture who have provided machines to companies like Coke. These machines are easy to use, reliable and sharp looking! This RVV-500 can vend items such as juice, milk, soda, water and a variety of drink options worry free with the electronic vending arm that safely delivers your items to the product door with dropped them from the shelve like most drink machines. This machine is MDB and DEX ready for card install or remote monitoring. 2011 model years.
More details...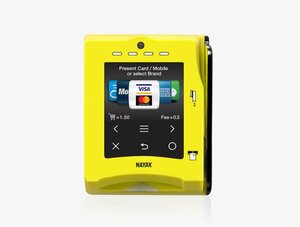 The system is superior vs the USA G10 system (swipe only, 2 pieces/parts, outdated). The Nayax One Touch is a swipe or chip system that is one piece/part incorporating the latest in card & mobile payment systems. It has valuable web-based reporting and management tools to help make your vending service more profitable.
More details...